ELEMENTS OF A SPINAL FUSION
The main reason for which spinal fusion is done is usually severe low back pain that is caused by the painful motion of the vertebrae. Spinal fusion and multilevel fusion usually work by blocking or eliminating the painful motion of the vertebrae that gives the patient a lot of discomfort.
These types of back pain conditions as well as unusual and painful motion are caused by spine disorders like degenerative disc disease or spondylolysis. Apart from the two other spine disorders like abnormal slippage and facet joint degeneration can also be causes of back pain. Spinal fusion may also be considered as a treatment option for conditions that may lead to excessive instability of the spine, spinal deformity like scoliosis, fractures, tumors and infections.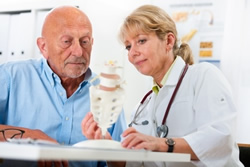 SPINAL FUSION INGREDIENTS
The main things that are a must for patient to undergo spinal fusion are:
The presence of a graft that is suitable as a connecting bridge to the vertebra
The presence of the perfect location that works well to lay the bone graft and also provide the perfect healing environment for each vertebral segment on either end
Must have the needed fixation to immobilize the area where the bone grafts heals to the vertebral segments. Immobilization procedure is done with the help of metallic screws and rods for internal fixation
The patient needs to have the right type of biology for the graft to fuse. Also the bed or the place that is used to lay the bone graft must be prepared correctly
WHY YOU WOULD NEED TO GET A MULTILEVEL SPINAL FUSION
Multilevel fusion is not a treatment that is often suggested by doctors for low back pain. The reason for this is the risk that is related to this surgery and the poor success rate related to the procedure. Moreover, the recovery period needed after this surgery is also quite long.
Usually this procedure is needed for severe spinal deformities like:
Degenerative Disc Disease
Scoliosis
Kyphosis
Spondylolisthesis